Full Time
Internship
4.10.2020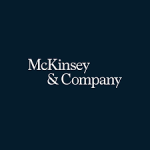 Website McKinsey & Company
Global Management Consulting
McKinsey is actively looking for new interns and consultants to join the Helsinki office!
We look for current students, soon-to-be graduates and recent graduates from various academic and career backgrounds. While there's no exact template for success at McKinsey, our people share some qualities that help make us successful–and that make working here fun. We look for people with excellent problem-solving and people skills, a healthy curiosity, and the courage to take initiative.
Whatever your background, McKinsey provides a breadth of projects, locations, client opportunities, professional development, and a supportive culture to help you navigate a career in consulting. As a consultant, you'll have the opportunity to work on diverse projects with collaborative teams engaging with interesting clients.
Our positions are intended for individuals from every university and every major degree. The only minimum requirement for our internship program is 80 academic credits, with the aim of completing a Master's degree.
To apply for our internship and consultant positions go to www.mckinsey.fi and select Careers/How to Apply. Send your application by October 4, 2020.