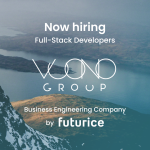 Vuono Group
Want to work with the founders of Columbia Road and the previous CEO of Futurice? Vuono Group is looking for Full-Stack Developers and Architects!
Are you interested in:
– what happens under the hood of modern software solutions and architectures?
– good software engineering practices?
– effective and lean ways of working?
– solving complex business problems with code?
Do you have experience in:
– programming languages / frameworks such as JavaScript, TypeScript, React, Node.js, Java, Clojure, Scala, Python, Swift, Kotlin, React Native, C#, F#?
– cloud platforms AWS, Azure, GCP?
– CI/CD frameworks?
But most importantly, do you have motivation to solve highly complex business problems with software and best-in-class software engineering?
Join Vuono Group, a team of digital efficiency experts: