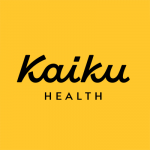 Website kaikuhealth Kaiku Health
Kaiku Health is a digital health company aiming to improve cancer patients' quality of life through health data science.
Kaiku Health is looking for design professionals to join our product team in Helsinki. You will take part in building our next generation digital patient monitoring and guidance platform that improves the outcomes of cancer treatments.
Our product team is a mix of design, engineering, data science, and medical professionals. Nurses and physicians use the product to manage patients' treatment journeys, follow patients' symptoms and quality of life, and communicate with patients about their treatments. We're building a product that will be used by people of all ages with varying skills, so user experience is vital.
As a product designer you will perform user research, design compelling concepts and user interfaces and see them through to the end product. Instead of focusing on deliverables, you work in a lean way, care about what actually gets shipped and work in close collaboration with our developers and product managers. We ship early and often and you see that as an opportunity to learn and improve your designs. You will also have your word in improving our design and development processes, tools and practices. We value earlier experience in the medical field but it is not required.
What we expect from you
You are skilled in interaction design and concept design,
You can conduct user research and usability testing,
You collaborate effectively with the team and customers,
You understand modern design tools and technologies,
You communicate fluently in English (Finnish, German and/or Swedish is a plus).
What we offer you
High ownership of your work in a flat organisation,
Meaningful work that has real-life impact on cancer patients' well-being,
Humane, respectful, ambitious, and open organisation culture,
Occupational health care service and an extended private healthcare insurance
Check out more information about the position here!