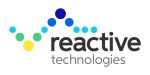 Website Reactive Technologies
Type: Full-time
Location: Oulu + remote (Finland)
Application DL: 22.5.2022
Reactive Technologies is looking for a power systems aware Cloud Software Engineer to join their small but innovative team!
Reactive Technologies is a highly innovative energy tech company providing grid operators and renewable asset owners with market-leading and mission-critical technology solutions to accelerate the clean energy transition. Their innovation provides safety, cost-efficiency, and the ability to utilize more renewable energy in power systems. Their latest investment round included Bill Gates ́ Breakthrough Energy Ventures and now is an excellent time to join and be part of future success. You can read the latest press releases Here.
You will be part of the research team and work closely with service development and operations teams. Your responsibility is product development by commercializing research-level implementations from power systems modeling, signal processing, and/or machine learning and analysis techniques. You are going to investigate and implement new technologies relating to power system monitoring and operations. The most important thing is to ensure that the new research prototypes and algorithms get successfully implemented in Reactive's cloud architecture in AWS. This will involve creating designs for sub-components in Reactive's cloud architecture and implementing them according to the design. Reactive Technologies main tech stack includes AWS/Terraform, Linux/Docker, Git/Gitlab, PostgreSQL, Influx, Python, Go (golang), ReactJS, and TypeScript.
You might be a person Reactive Technologies is looking for if you have a strong experience in cloud environments and a basic understanding and a genuine interest in power systems. We expect you to think both technically and commercially and combine these viewpoints. It is important to desire to learn and develop yourself and Reactive Technologies. In this position, you have an excellent opportunity to affect carbon footprint and the use of renewable energy!
We can offer you:
-A place in an interesting and growing company using cutting-edge technology
-A motivated and dynamic work community
-Opportunities for professional growth and develop your skills
-Home office/Remote working support and company-supported travel to Oulu headquarters as agreed, if you are not located in the Oulu region.
-Private healthcare with extensive cover health insurance
-Sport, culture, and bicycle benefit
-A bonus and share option scheme
We require you to have:
-At least a couple of years of relevant work experience
-Knowledge or interest in power systems challenges
-Strong skills with AWS or other cloud platforms
-Programming skills with Python and/or Go
-Independent working style and ability to work as part of a team
-Be fully proficient in English
We consider as an asset:
-A suitable degree (e.g. power system engineering, computer science)
-Skills in any of the technologies used at Reactive Technologies.
Sounds like you? Please submit your CV and motivation letter in PDF format by the latest 22th of May via our application system here: https://emp.jobylon.com/applications/jobs/131087/create/ Please also mention your salary request and the earliest possible starting date in your application documents. Remember to use the application system, we do not accept applications by email. In this position, you will be employed directly to Reactive Technologies Finland Oy.
For more information about the recruitment process contact aTalent's Recruitment Manager Jessica Vilppula(+358 50 539 5987 jessica.vilppula[at]atalent.fi)
Reactive Technologies Limited (RTL) is a highly innovative technology solution provider with
the mission to unlock the potential of the global renewable energy transition.
Reactive Technologies offers the world's first and only inertia measurement services. The services enable power grid operators more precise control of their grid. This provides safety, cost-efficiency, and the ability to utilize more renewable energy in the power systems. Its Data Business offers unique grid insights and forecasts to enable smarter trading decisions. You can read more here.