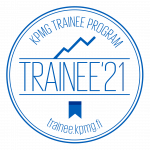 Website KPMG
Tilintarkastus-, vero- ja neuvontapalvelut
Do you have a passion for solving some of the toughest, real-life challenges faced by businesses and governments? Are you interested in developing your problem-solving skills and your industry and functional expertise? Do you want to hone your skills in using data & analytics tools? Are you striving to build a career in management consulting?
If the answer to all of the above is yes, then we are happy to announce that
KPMG Advisory is looking for a Strategy Consultant Trainee to join our Global Strategy Group.
As Strategy Consultant Trainee, you will participate in our projects as part of our expert team from day one. You will work in close collaboration with experienced colleagues and help assist our clients who include large industrial corporations, private equity investors, and family offices.
To name a few key responsibilities, your daily work will consist of:
Solving critical, yet ambiguous client problems with a structured approach.
Researching, collecting, and analyzing information from databases.
Conducting industry, company, and competitor analysis (e.g., financial, operational, commercial).
Storyboarding, visualizing, and drafting presentation materials.
Preparing and presenting findings to clients.
We are looking for exceptional candidates with the following qualifications:
Master's degree in progress with an excellent academic record in Business, Engineering, Economics, Science, or Technology.
Exceptional analytical, quantitative, and qualitative problem-solving skills.
Structured and proactive self-starter with a drive to learn new things quickly.
Comfortable working under time pressure on multiple assignments with a strong commitment to delivering high quality solutions.
Ability to communicate complex ideas effectively, in writing and verbally, in English and Finnish (Swedish fluency is an advantage).
Ability to work both independently and collaboratively in a team environment (including remotely).
Outstanding record of professional achievement.
Strong leadership record in an academic, professional, or extracurricular setting.
Previous work experience in management consulting, corporate strategy, investment banking, or M&A is an advantage.
Joining our team will offer:
A position in an international, respected professional advisory firm, with responsibilities from day one.
The opportunity to learn from experienced colleagues and hands-on client work across multiple industries.
The opportunity to interact with C-level clients and global experts.
A dynamic and flexible work environment.
Competitive compensation and benefits.
This is a temporary (4 months) full-time paid position based in our central office in Helsinki. The Trainee program will start on 1 September 2021.
Tell us your story:
Submit your application at trainee.kpmg.fi on 28 February 2021 at the latest. Please include your CV, cover letter, and transcript of records and certificates of completed academic degrees (high school diploma, Bachelor's). Please note that if you are interested in several trainee opportunities at KPMG, you can apply to all of them with one application, while stating your preference.
If you have any questions about our Trainee program, please contact our recruitment team, recruitment@kpmg.fi.
We look forward to hearing from you soon!