Board & Guild Officials
BOARD
Hello!
We are the Board of Athene for 2021, and we take care of the guild's activities in different sectors. You can contact the entire board by emailing us at hallitus@nullathene.fi.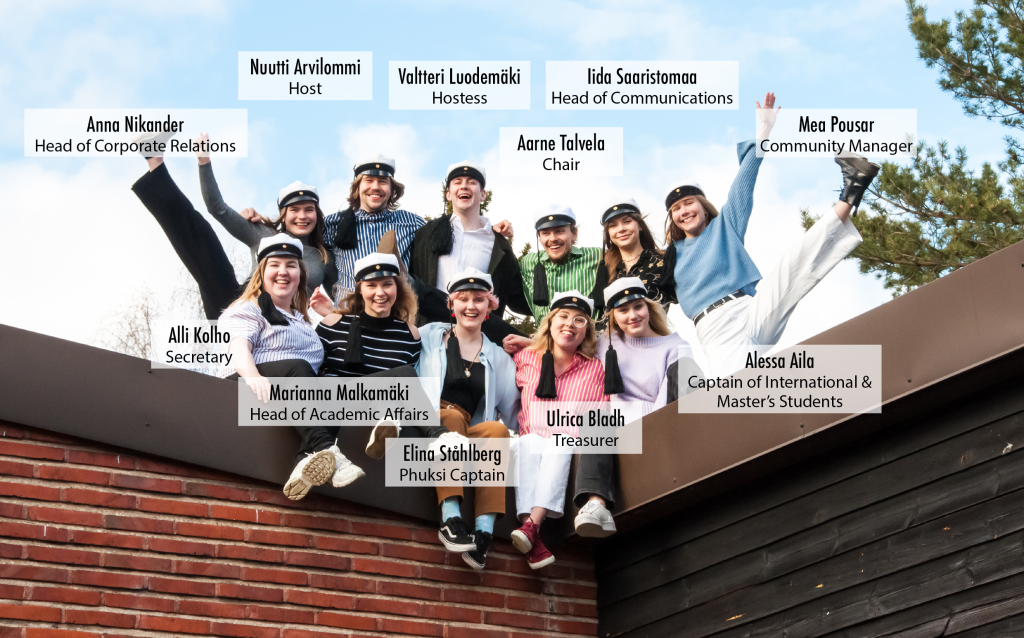 GUILD OFFICIALS
EVERYDAY GUILD ACTIVITIES
EnvironMentalists Nea Nieminen & Irpo Niemenmaa
OLOhuone committee Samuel Moawad, Tuomas Kuusisaari, Antti Riski, Nea Nieminen, Irpo Niemenmaa, Julia Sippala
Guild of Information Networks Athene ry's official Pool Boy Nestori Lautanala
YummyMommies Rebekka Sihvola & Ruusu Nurmi
Alumni relations responsibles Eemil Rantala & Rahim Ahsanullah
Historians Eemil Rantala & Oliver Mulari
WELLNESS
Harassment liaisons Jessica Mason & Irpo Niemenmaa
Wellbeing Gurus Niklas Koskela & Emil Videman
Hercules & Xena Kristiina Suojanen & Viliina Nyyssönen
Leader of the Camping committee Miska Kandolin
Camping Committee Sini Hölsä, Helena Rautiainen, Sampo Rapeli, Inkeri Nora, Jasse Ahokas, Antti Norrkniivilä, Iida Lehikoinen, Inkeri Rouvinen
EVENTS
Host team Markus Laine, Eero Lindbohm, Ruusu Nurmi, Tuukka Pallonen, Milja Parviainen, Laura Puusola, Aino Salonen, Rebekka Sihvola
Head of Songmasters Tiina Pajukari
Songmasters Nestori Lautanala, Markus Ihamuotila, Anni Kekäläinen, Märt Vesinurm, Paavo Kekkonen, Antti Riski
Heads of the Annual Ball Sini Hölsä & Antti Kari-Koskinen
Annual Ball committee Samuel Moawad, Julia Sippala, Katri Niemi, Ilona Malmivirta, Inkeri Rouvinen, Emma Kankkunen
Culture committee Kiri Huhtanen, Maria Oehlandt, Akseli Äikäs & Venla Saavalainen
PizzaSquirrels Eemil Rantala & Rahim Ahsanullah
Marathon runners Markus Taskinen & Kalle Copeland
PHUKSI SECTOR
Tutor Responsible Julia Sippala
WappuRascal Jaakko Vintturi
WappuPresident Elina Ståhlberg
STUDY SECTOR
Heads of High School Marketing Mette Luntama & Anna Laakso
High School Marketing Monkeys Valentin Jutila, Antti Norrkniivilä, Markus Laine, Jenni Vetikko, Juho Alin, Susanne Erlund, Eero Lindbohm, Meri Ruuska
CORPORATE RELATIONS
Corporate Relations team Juhana Viitamo, Julia Sippala, Juha Honkanen, Ilona Malmivirta
TEK Responsible Niko Kandolin
INTERNATIONAL
ESTIEM responsible Meri Ruuska
International Advisor Gabor Major
MayDay O'Liver Oliver Mulari
COMMUNICATION
CTO Joel Juhela (Jan-Jun), Sampo Rapeli (Jul-Dec)
Hacker crew Sampo Rapeli, Joel Juhela, Ilari Kuoppala, Simo Naatula
Social media team Anni Kekäläinen, Niklas Koskela & Milja Parviainen
Photographers Otso Koiso-Kanttila, Oona Paananen & Jasse Ahokas
Kukka magazine editors-in-chief Katri Niemi & Helena Rautiainen
Journalists of Kukka magazine Samuel Moawad, Oliver Mulari, Kaarlo Liukkonen,
Jaakko Vintturi, Inkeri Nora
Layout team of Kukka magazine Katariina Korolainen, Hilla Klemetti
Kukka magazine DigiLeapers Joel Juhela, Sampo Rapeli
Old boards and guild officials can be found here.